For Our Readers Who Wants To Live, Work and Study in Canada, Follow The Links Below For More Info
Cashlion Loan App Review (Legit Or Scam)
Cashlion Loan is another online loan app people ask questions of how legit they are, in this post, we will be explaining everything you need to know about the loan app whether you real or fake.
Cashlion Loan has been in existence for so long time. Many people has some negative review about this app while some also have a positive review. As I always say, I don't like to make a review about any loan app I have not used. Now, though this particular loan app is not included in the list of best loan app in Nigeria which I wrote previously. am going to write my own review about this loan app.
Is Cashlion Loan Legit Or Scam?
Cashlion Loan is a legit Loan App in Nigeria which gives you instant loan after application and it's very fast in Loan disbursement.
My only issue and disadvantage of this loan app is Loan period and Interest rate.
Cashlion will give you a loan of #10000 and expect you to pay #14000 back within 7 days. Not that the number of days will increase when you pay back on time, The number of days will continue to remain the same. And when you refuse to pay back on time, their debt management is mannerless, they will start sending you a threat that they are going to embarrass you if you don't pay back.
Below is the message I received from this Cashlion on the payment day, not that the day is already over.
WE WON'T HESITATE TO EMBARRASS YOU,SINCE YOU'VE DECIDED TO TURN DEAF EAR TO ALL WARNING YOU WILL REGRET THIS ACT IF YOUR LOAN IS NOT CLEARED NOW. CASHLION MGT
This message is not encouraging, and if you refuse to pay back, they will start sending messages to your contact telling them you are running away with their money. Below is a screenshot of the message.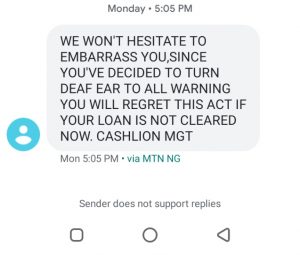 How much can I get from Cashlion Loan?
According to Cashlion Loan, you can get a loan upto #500,000.
What is Cashlion Loan Interest rate?
Cashlion Loan Interest rate ranges from 5-30% monthly. Let's Say you got a loan of 10,000, be ready to pay back between 13,000 to 15,000 at the month end.
How can I get a loan from Cashlion?
It's very simple to get a loan from Cashlion, Just download the app from Google play store and fill in your basic information, bank information. Cashlion will check your credit score and offer you your qualified loan amount.
Generally, Cashlion is a legit Loan App in Nigeria you can get an instant online loan.