Montaigne AH limited is popularly known as Montaigne place. It is described and known for its skincare retail company.
Montaigne provides Customers with exclusive values and satisfaction in what they ooze out…
It is founded to provide luxury at its best and satisfaction, providing an exceptional sophisticated shopping experience with some exclusive offers.
The location of Montaigne has currently has luxury retail outlets across Nigeria. The Brand's portfolio cut across different categories.
What else would you love to know about Montaigne?
Montaigne is actually recruiting for this position at the workplace.
JOB TITLE_IT system Analyst.
LOCATION: Lagos.
JOB SUMMARIZATION.
What we need is looking out to hire a very smart and proactive individual to join our IT team.
Are you good in Retailpro or QuickBooks? If you are, then this job is for you.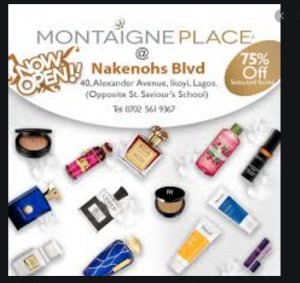 JOB DESCRIPTION
He/she will manage all operating systems and end-user software.
Applicants will manage the input/output fleet, including printers and scanners.
He/she will have to perform and test routine system backups and restore.
READ ALSO: Just In: Dalarna University – Sweden Is Offering International Student's Scholarship
He/she will create the required report in response to the business.
Applicants in that position will be providing advisory services to clients through engagement, needs assessment, information, and solution propositions.
He/she will analyze incoming jobs, answer questions from customers, and act as an authority in that area.
HOW TO APPLY
All applicants should/have a minimum of a Higher National Diploma (HND) or a Bachelors Degree from a higher institution.
Must/should have a valid or recognizable means of identification.
Applicants should or must have at least five credits in O level.
This job is open to all regardless. No one should either pay a dime to anyone online because it is totally free.
Note: Only qualified candidates will be called for interview and assessment.
The closing date for this job has not yet been disclosed.
HOW TO APPLY: Interested candidates should send their CV to careers@montaigneplace.com using the Job title as the subject of the email.