The Nigerian Army Recruitment 2021/2022 Application Form is also know as the Nigerian Army 82rri which means 82 Regular Recruit Intake.
The Nigerian 81Rri is already in training in the Nigerian Army training center.
The Nigerian Army 82rri is out on sale for the interested candidates who wish to apply.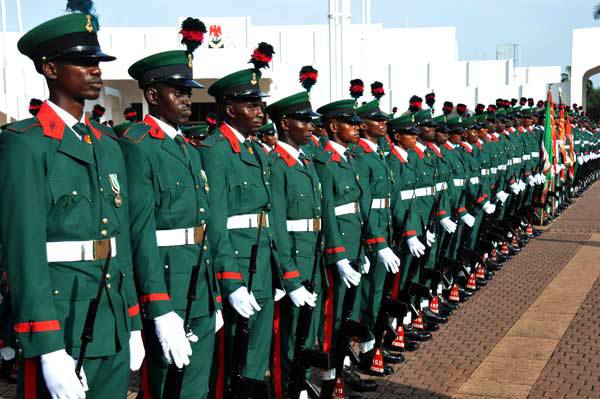 The Nigerian Army has started selling  the 82rri form. You can always check the Nigerian Army Recruitment Portal www.Recruitment.army.mil.ng
You can also visit the Nigerian Army Official website www.army.mil.ng
You can also be checking our website for updates all the time because we will always keep you updated.
HOW TO APPLY FOR THE NIGERIAN ARMY 82Rri 2021/2022
You have to visit the Nigerian Army Recruitment Portal and register with an active email address because that's where the Nigerian Army will reach you in case of any update or information about the Application
You have to Choose between non Tradesmen or Tradesmen depending on the one you wish to apply.
You are to complete all the requirements required online while registering.
Print out the application form out and Guarantor forms.
While going for the Recruitment, make you go with all the online form you printed out during your registration
NIGERIAN ARMY 82Rri RECRUITMENT REQUIREMENTS 2021/2022

1.You Must be A Nigerian by Birth.
2.You Must Be physically and mentally And medically fit.
3.You must have Finished your Secondary school because you have to present your O Level certificate be it Waec,Neco or Gce.
4.You must provide your Letter of Indigene certificate from your state House or Local Government certificate of Origin.
5.You must Not be an ex convict, Which also means that you have to be free from any kind of criminal case or related crimes.
6.You Must make sure that You have your primary school certificates and Secondary school certificate as well.
7.You must be between the Age of 18 and 22years at the period of Applying.
8.You must Not be less than 1.65m for Males and 1.56m for Females.
9.You must attend the zonal screening Exercise at the designated zonal center for your State.
Note that it might not be in your state, it can be in the Neighboring State.
10.You must have your birth certificate or declaration of Age from Any Court in the Country.
11.You have to have your BVN with you obtained from the Bank.