Nigerian Youth Investment Funds (NYIF) 2021/2022.
The Nigerian Youth Investment Funds wishes to inform the Interested Nigerian Youths who are interested in their Program that they are Selling their forms from 14 of February.
The Organization made this announcement through their Official Twitter handle @Nyif_NGR on 5 February 2021.
In their own words, they wrote " Get Ready to anticipate, Application Opens on 14th Of February 2021. You could be the new millionaire Innovator when you novate on the I Novate Competition."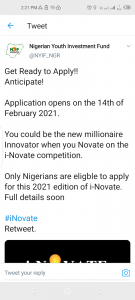 Please note that this Application is for Nigerians Alone between the ages of 18 and 35 years and NIN is compulsory.
Below are the all the requirements Needed.
Nigerian Youth Investment Funds (NYIF) 2021/2022 Requirements
1. All the Applicants must have a valid bank verification number (BVN)
2. All the Interested applicants must also have a valid means of identification
Check out Vacancies On Azikel Group Of Company For Nigeria Graduates
All the Applicants name must match with the ID card they Posses.
Please also note that the Application For the Nigerian Youth Investment Funds NYIF is totally free. There is no form of payment involved.
Any one who is interested should visit their Application Portal www.nyif.nmfb.com.ng and Apply
For those who don't know what NYIF is all about, let me briefly explain few things about them.
Nigerian Youth Investment Fund NYIF is a government initiative created in order to boost the Nigerian economy through leverage and access to finance the youths.
The fund purpose is to serve as a catalyst to unleash the potential of every youth and enable many of them build businesses that will help and increase the employment rate.
The aim of  NYIF is to reach 500,000 youth annually between 2020 and 2023. Each of every fund approval will range from N250, 000 to N50, 000,000, with a spread across group applications. individual applications, working capital loans set at 1 year and term loans set at three (3) years with single digit interest rate of 5%..