For Our Readers Who Wants To Live, Work and Study in Canada, Follow The Links Below For More Info
QuickCheck is on of the online loan app in Nigeria which has also been in existence for some time now. QuickCheck Loan is just like any other loan app which all the transactions are performed online, No collectaral, no paper work just your BVN Number and your loan will be given to you.
But the question now is how how legit is quick Check? Is it real or fake? to know all these, just continue reading as we are going to explain everything you need to know about the QuickCheck Loan in details.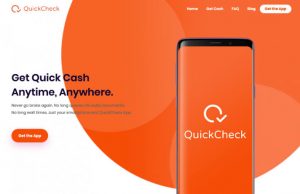 Is QuickCheck Loan Real or Fake?
QuickCheck Loan is real and legit online Loan App which has instant approval of loan within some minutes. We are writing this based on experience we have with QuickCheck as their service is very fast and their loan disbursement is also fast as well.
We have written an article about best loan app in Nigeria which Quick Check is among, Alongside Palmcredit, Branch Loan App, EasyCredit and others. QuickCheck Loan App is trusted by many individuals.
How much can you get as a loan from Quick Check?
QuickCheck can give you loan as high as #200,000 and as low as #3,000 Depending on your profile.
What is QuickCheck Repayment period?
Many Online Loan App don't have long payment period but this particular loan app has the best Repayment period. My first loan with them, they gave me a period of 30days to repay, while some other loan app may give you 8 days or two weeks to repay your outstanding Loan.
What happens if I didn't pay back?
One thing I always Advice those who know that they can't pay back their online Loan is for them to avoid it, because you will be blacklisted from getting further loan if you don't pay back on time.
Where can I get QuickCheck Loan?
The loan app is available in Google Playstore and it's free of charge to download.
Generally, QuickCheck Loan is a trusted loan app in Nigeria which you can try out if you run out of cash.