Renmoney is another loan app which you can find on Playstore and has already been download more than 1 million times. But the question here is how legit is the Loan app, Is it real or fake?. Not to worry, we will be explaining everything in details concerning this particular loan app in Nigeria.
Renmoney app has been in existence for a long time now. The app which has so many downloads from Google play store shows that people do cherish this particular loan app.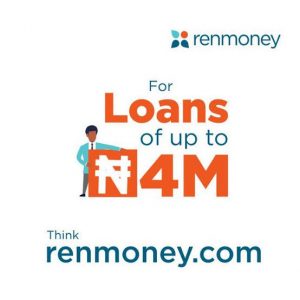 But I use to say this, If I didn't use any loan app by myself, I won't be writing any reviews about it. Because of my readers, I always make sure I confirm each loan app I write review about before I can be able to say if it's real or not.
Is Renmoney Loan Legit?
Renmoney is a Legit Loan app in Nigeria which gives you an instant online loan without any paperwork or collectaral. This particular loan app is one of the best Loan app in Nigeria which is very fast in loan disbursement.
I registered for the loan app and I was given a loan of #8000 on my first Application and they promised to increase the loan limit once I pay back on time.
How do I request a loan from renmoney loan app?
Just visit Google Playstore and search for Renmoney, download the app and register. Registration is free of charge. Provide them with the necessary information they require like your BVN, phone number, date of birth and few others. Once you are done filling the required information, Renmoney will automatically give you loan limit which matches your profile information. Please try and give the right information if not, you Application may be rejected.
How much can I get as a loan from Renmoney?
You can get a loan from Renmoney up to five hundred thousand Naira. Note that the amount of loan you get depends on your profile information.
What happens if I didn't pay back my loan on time?
Once you did not pay back your loan on time, Renmoney may restrict you from getting further loan and the interest rate will keep on increasing daily. So it's advisable you pay back your loan on time.
What is Renmoney Interest rate?
Renmoney interest rate ranges from 2.4% – 9.33% and the maximum Annual Percentage Rate (APR) is 35.76%. According to them, no extra charges are charged.
In conclusion, Renmoney Loan is a good loan app you can believe in when it comes to online instant loan. They are 100% legit.