Kings in Nigeria plays a very big rule in development of a community and overseeing the territory in which he is the king. Mostly many Kings in Nigeria are Old, But we still have some young Kings who rules in Nigeria in some part of the country. In this post, we will be discussing about the youngest king in Nigeria Presently, their age and the state they are from.
In some States in the Eastern part of the country, the way kingship is passed to another king is by inheritance, which means, if the father died and the son is 5 years old, he may be crowded king at that age and the traditional prime minister will be overseeing the kingdom until the king come of age.
You can also read about the Richest Governors in Nigeria
While in some communities, the kingship is rotational, which means it passes from one Village to another in the same community and they choose who they wish to represent them and be their king.
Youngest Kings In Nigeria 2021
3. HRH Obi Chukwuka Noah Akaeze
HRH Obi Chukwuka Noah Akaeze was the youngest king in Nigeria After the death of his father. He previously held the title of the youngest king in Nigeria.
He assumed his position as a king when he was just 18 years in 2016.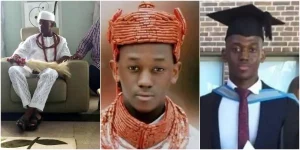 He is a king in Aniocha Local Government in Delta State. He graduated from the higher institution in the year 2019 in United Kingdom where he studied law. The King is 23years now in 2021
2. Oloyede Adeyeoba Oloyede
Oloyede Adeyeoba Oloyede was made the of Aujale Okeluse which is in Ose local government area Ondo state when is was just 15years old in 2020. In this year 2021, he is currently 16 years old.
Oloyede Adeyeoba Oloyede is still in secondary school when he was made the king of his town. Presently, he is still in Secondary school and he is the only surviving son of his father.
1. Akubuisi Okonkwo
Akubuisi Okonkwo is currently the youngest King in Nigeria. He was crowned the king of Iyiora Anam Kingdom In Anambra State at the age of 10 in the year 2020.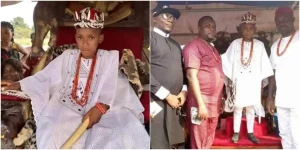 So, he is presently 11 years old this year and that made him the youngest king in Nigeria 2021. He took over the throne as king following the death of his father His Royal Highness Igwe Onyeachonam Okonkwo.