Many people always ask this question, Who is the highest paid footballer in the world? Now let's analyze it. There are many footballers in the world doing great in their different clubs and country as well. Most of those players are not paid as you expect. In this post, we will be giving you the breakdown of the highest paid footballers in The world 2021.
Most of top class players in the world are well paid while some don't get paid that much. Some football clubs in some countries like China are known for paying their footballers well though some of those players are not well known. Now let's go straight to the List of the highest paid footballers in the world including the amount they are being paid and the country they represent.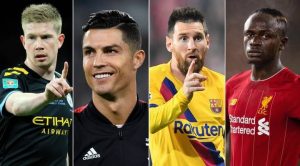 We will be making the list ranging from the lowest paid footballer in the world to the highest paid footballer in the world. Note that the players are the top 10 highest paid in the world and there are other high paid footballers but they are not being paid up to the top 10 in our list.
Meanwhile, we have written an article on the highest Paid Footballers In Africa And Highest Paid Footballers In Nigeria.
Highest Paid Footballers 2021 In The World
10. Robert Lewandowski (Bayern Munich) – £350,000 per week
Robert Lewandowski is a key player in Bayern Munich.
He was the FIFA Men's Player of the Year in the year 2020
The 32-year-old striker shows no signs of slowing down and he has also been recorded as the Bundesliga's all-time leading foreign goalscorer.
9. David De Gea (Man United) – £375,000 per week
David De Gea is currently the Manchester United Goalkeeper. The Manchester United star is the highest-paid goalkeeper in the world – and this made him to make it to our list occupying the 9th Position of the highest Paid Footballers in the world.
David de Gea's Old Trafford contract is worth just shy of £400,000 per week and this makes up the bulk of his annual earnings.
8. Kevin De Bruyne (Man City) – £385,000 per week
Kelvin De Bruyne recently who recently signed a new deal with Manchester City made our list occupying the 8th Position of the highest Paid Footballers in the world.
He is paid more than his team mate Raheem Sterling and the new Man City signing Jack Grealish who both of them are paid around the £300,000 per week.
7. Kylian Mbappe (PSG) – £410,000 per week
Mbappe a hard-working player who plays for Paris St German also know as PSG. He made our list as number 7 of the highest Paid Footballers in 2021.
The 22-year-old's who went on transfer from Monaco to PSG in 2018 remains the second most expensive footballer in history and he has been recorded to have already scored more than 100 goals for the club.
6. Gareth Bale (Real Madrid) – £500,000 per week
Gareth Bale is a focused player who has played for Real Madrid for a long time now even after the exit of Christiano Ronaldo.
He was Once the most expensive player in football history, Gareth Bale was withdrawn by Real Madrid and sent back on loan to Tottenham for the 2020/21 season, where he is struggling to make a mark on Jose Mourinho's team.
5. Antoine Griezmann (Barcelona) – £575,000 per week
Antoine Griezmann was transferred from Atlentico Madrid To Barcelona in the year 2019 and his transfer is recorded as the fifth most-expensive transfer in history.
4. Luis Suarez (Atletico Madrid) – £575,000 per week
Suarex is a well known player who has played for FC Barcelona few years back before his move to Atlentico Madrid. He Played alongside lionel messi.
The 34 years old man has scored 21 goals in 32 La Liga games to super charge Atletico's surge for the title and has been worth any amount he is being paid.
This may also be his last big pay as he is already getting close to the end of his career.
3. Neymar (PSG) – £606,000 per week
Neymar Junior is a Brazilian Player who has also played for FC Barcelona and currently playing for Paris St German known as PSG.
Nermar broke the world-record £200m transfer to PSG from Barcelona in the year 2017.
He is said to be paid more than £30million per year by the French club
2. Cristiano Ronaldo (Manchester United) – £900,000 per week
Cristiano Ronaldo is an international superstar who you must talk about when it comes in talking about football. He has the highest followers on Instagram among other football stars like Messi.
The Portuguese superstar is paid nearly a million pounds weekly.
He became the top goalscorer in football history with a goal for Juventus against Napoli in the 2021 Italian Super Cup to take his total for club and country to 760 and has continued to find the net since. He has returned back to Manchester United after playing for Juventus.
1. Lionel Messi (PSG) – £960,000 per week
Lionel Messi is considered by many to be the greatest player to have ever lived – and he backs up his talent with the highest earnings in the world.
Lionel Messi transfer news came early August 2021 from FC BARCELONA to PSG.
He was ready to sign a deal worth approximately £1.1m per week with Barcelona before tax, but after the Spanish side were unable to complete the deal due to La Liga financial rules, he was forced to leave the club he has spent a lifetime at.
In Conclusion, Lionel Messi Is the highest Paid Footballer In The World 2021 with the Total Weekly Salary Of £960,000.