Facts about Nelson Mandela. When we talk about freedom fighting, one Name that must come to your mind is Nelson Mandela. He was known for his freedom fighting because he stood for south Africans gain their Freedom. Today, we will be talking about some facts you don't know about this great man Nelson Mandela.
Facts about Nelson Mandela
Nelson mandela was born on 18 July 1918. in mvezo, cape province, union of South Africa. Mandela was a South African anti-apartheid revolutionary, politician, activist, lawyer and a philanthropist who served as president of South Africa from 1994 to 1999. he was south Africa's first black chief executive and the first elected in a fully representative democratic election.
A xhosa born to thembu royal family, Mandela attended the fort Hare university and the university of witwatersrand, where he studied law, living in Johannesburg, he became a founding member of it's youth league. After the South Africa national party came to power in 1948. He became involved in anti-colonial politics working as a lawyer, he was repeatedly arrested for seditious activities and with the ANC leadership, was unsuccessful prosecuted in the treason trial from 1956-1961. influenced by marxism, he secretly joined the South African community party (SACP) and sat on it's central committee.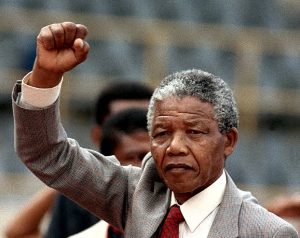 Although initially committed to non-violent protest in association with the SACP he co-founded the militant umkhonto we sizwe (MK) in 1961, leading a sabotage campaign against the apartheid government. in 1962, he was arrested, convicted of conspiracy to overthrow the state, and sentenced to life imprisonment in Rivonia trial.
Mandela served over 27 years in prison, initially in Robber island and later pollsmoor prison and victor verster prison. An international campaign lobbied for his release.
He was released in 1990, during a time of escalating civil strife. Mandela joined negotiation with president F. W de klerks to abolish apartheid and established multiracial election in 1994, in which he led the ANC to victory and became South Africa's first black president.
He became the president of South Africa on 10 may 1994 to 14 June 1999. His deputy's name was Thabo mbeki. Mandela died in 5 December 2013, He was aged 95 years.
names of his wives were Evelyn Ntoko Mase, Winnie madikizela and Grace machel. His children names were Thembekile makaziwe makgatho makaziwe zenani zindziswa.
Read More Interesting Facts HERE