For Our Readers Who Wants To Live, Work and Study in Canada, Follow The Links Below For More Info
Some Questions that has been coming to my inbox is how to join the Nigerian Army as a graduate. To join the Nigerian Army as a graduate is the same thing as joining the Nigerian Army DSSC Which means Direct Short Service Commission or the SSC which means Direct Short Service Combatant Commission. Meanwhile the two of them are not the same. There is difference between DSSC and SSC. You can read about the difference between DSSC and SSC in the Nigerian Army
Difference between DSSC and SSC In the Nigerian Army

So If you want to join the Nigerian Army as a graduate, you can either join through SSC or DSSC. Before you join the Nigerian Army as a graduate, There are some criteria that you need to posses before you can join.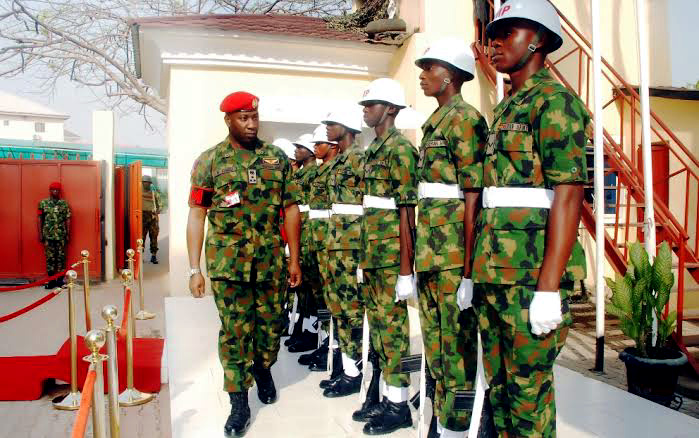 Requirements To Join The Nigerian Army As A Graduate
All the applicants must satisfy the following conditions and requirements.
Applicants must be a Nigerian as defined in the Constitution of the Federal Republic of Nigeria 1999 as amended.
Applicants either male or female must be between the ages of 23 and 27 years old.
Applicants must be medically, mentally and physically fit according to Nigerian Army Standards.
Be recommended and attested to his/her good character by at least 2 recognizable referees who is either a Local Government Chairman/Secretary or an officer of the Armed Forces not below the rank of a Lieutenant Colonel and equivalent or an Assistant Commissioner of Police and above who must hail from the applicant's state of origin. Passport photographs of referees must be affixed to the letter of attestation.
All the Applied Candidates must submit a Letter of Attestation from their former institutions.
You Measure in height at least 1.68m (for male) and 1.65m (for female).
Must not have been convicted by any court of law. Military personnel must not have any disciplinary case and must be confirmed so by the Commanding Officer/Commander.
Possess at least a first degree with not less than Second Class Lower Division or HND of not less than Lower Credit in the arts, sciences or humanities from accredited institution of learning. Courses of study must also be accredited at the time of study.
Applicants must Possess valid birth certificate endorsed by the National Population Commission, Hospital or Local Government Council or valid age declaration.
Possess a valid certificate of state of origin.
Applicants (other than serving members of the Armed Forces) must possess NYSC discharge certificate or a valid certificate of exemption.
Applicants must present valid contact addresses and telephone numbers of parent/guardians and Next of Kin.
Candidates must not have any body inscriptions or tattoos.
Candidates must tender all original copies of educational certificates (primary to post-secondary).
Service personnel must present valid military identity cards and letters of recommendations by their Commanding Officers/Commanders. They must also present valid letter(s) of official sponsorship in tertiary academic institutions. Additionally, they must have served for a minimum period of 5 years in the Armed Forces of Nigeria.All service personnel applicants are under obligation to declare their service status on application as required by Harmonised Terms and Conditions of Service for the Armed Forces of Nigeria. Failing to do so constitutes an offence in addition to disqualification at any stage.
Candidates must not be members of any cult/secret society/fraternity.

To join the Nigerian Army as a graduate, Visit the Nigerian Army recruitment website and apply for either DSSC or SSC https://recruitment.army.mil.ng/