For Our Readers Who Wants To Live, Work and Study in Canada, Follow The Links Below For More Info
Lcredit is another Online Loan App I will like to write a review about. I have written a review about many other loan app like Branch Loan, Palmcredit Loan, and many others whether they are legit or Scam. Many people has asked questions too about Lcredit loan if they are real or Fake. But I never gave them a reply because I need to test the Loan App myself before I can be able to give a reply if this particular loan app is Legit or Scam.
Lcredit is one of the loan app which you can easily see on play store and they have been in existence for so long. Checking from their statistics on Playstore, it shows that many people has downloaded this particular loan app. But the question is, How Legit is Lcredit? Now let's go down to the answers.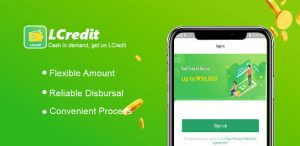 Is Lcredit Loan Legit or Scam?
Lcredit is a legit online Loan app which I can recommend to anyone who run out of cash and needs an instant loan. I got a loan of #7,000 Naira on my first Application and they promised to increase the loan immediately I pay back on time. Though you can get more than that when you apply because it depends on your profile. Someone that earns #100,000 monthly tends to get higher loan than the one that earns #50,000 monthly. So the amount of loan you get from Lcredit depends on your profile. It is one of the best Loan Apps in Nigeria.
How can I get a loan from Lcredit?
To get an instant loan from Lcredit, simply visit the Google Playstore and download their mobile app and fill in all the required information and submit. Lcredit will review your application and will tell you the status of your application. Note that you have 80% chance of getting approved immediately.
How Long does it take to get a loan from Lcredit?
Once your application has been approved, Lcredit will credit your account within the period of 5 minutes.
What is the Lcredit Interest Rate?
Lcredit interest rates ranges from 0.1% up to 1% for a period ranging from 91days to 180 days. Their interest rate is better than many online loan app and they also offer a long period of Repayment.
In conclusion, Lcredit is real and legit. You can give it a try whenever you run out of cash and needs instant money.
As mentioned earlier in our post, this review is based on our experience with this particular App.